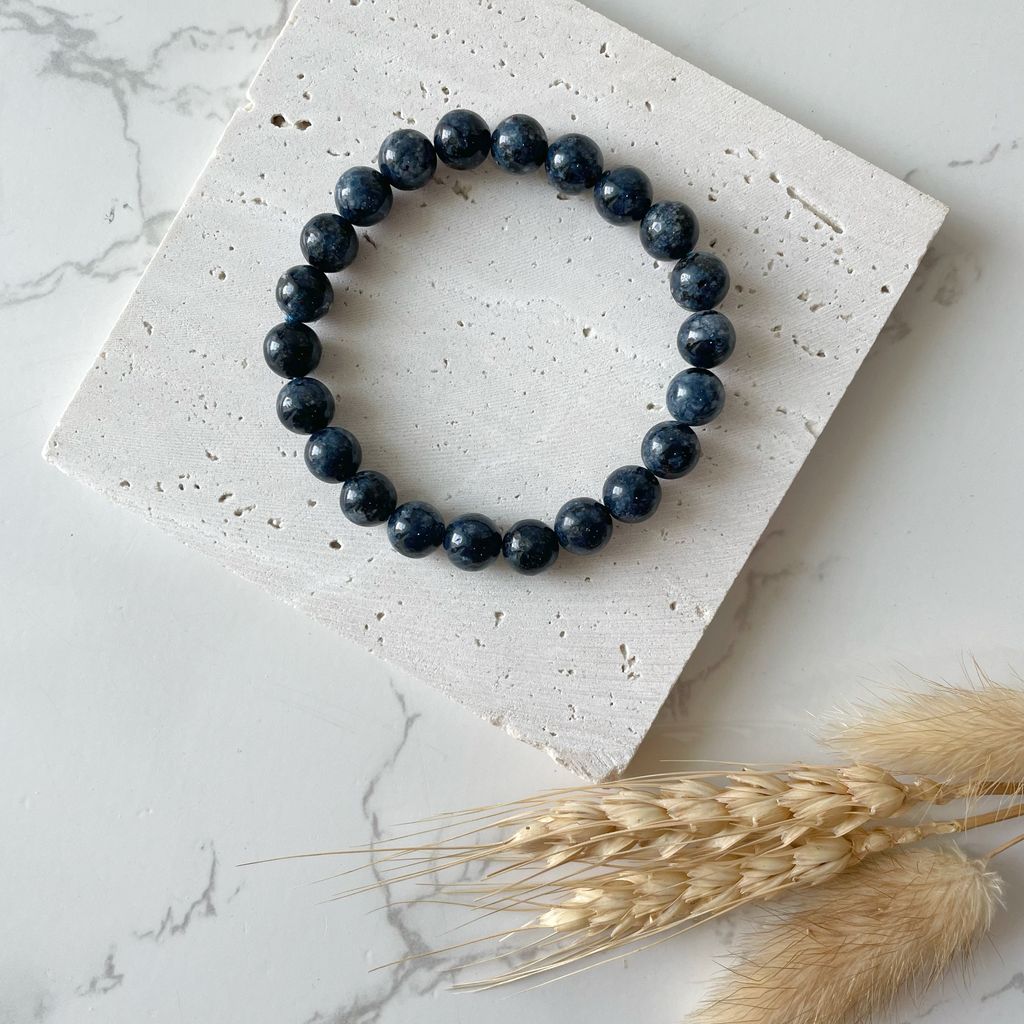 L1159 : Blue Sesame Jasper (8mm)
Blue Jasper is a versatile stone, which is no different when it comes to the zodiac signs. It resonates well with several zodiac signs such as Cancer. Cancers will benefit significantly from this stone as it helps them open up, especially the shy ones.
Scorpios will also benefit from this stone as they will receive vibrations of lightheartedness and joy. Scorpios can be serious at times, and only Blue Jasper can help them see the joy of life.
Virgos do not easily open their hearts to people, but this stone can help them. It helps them become generous with their inner feelings and also trust them.
The stone has a cleansing effect that will eliminate the negative energy in your life, stabilizing your aura. It is known to soothe the nerves and boost your focus in anything you do. If you have harmful thoughts or nightmares, this is the best stone to help you.
Blue Jasper sustains the emotional and physical body once you are injured or ill. The stone will bring renewed vitality and gradual strength your way. Blue Jasper is an astonishing stone that lends emotional support and enhances your self-discipline. It has slow and steady vibrations that encourage perseverance and help you avoid extremes.
If you wish to quit smoking or reduce your consumption rate, this stone can prove helpful. To those who want to stop drinking excessively, Blue Jasper is the ideal talisman. Blue Jasper is great if you wish to have happy pregnancies and is also ideal for fertility. The stone can align your chakra energies to give you a secure astral journey, especially the Navel and Heart Chakras.
Powered by Froala Editor
* Earrings are made using s925 silver/ 24k gold plated or stainless steel finishing, hence it is suitable for sensitive ears as it's nickel free.
* Please note: Each pieces of crystal may vary slightly in size, appearance, grain & colour as our crystals are natural element & hand crafted.
Customer comments
| Author/Date | Rating | Comment |
| --- | --- | --- |