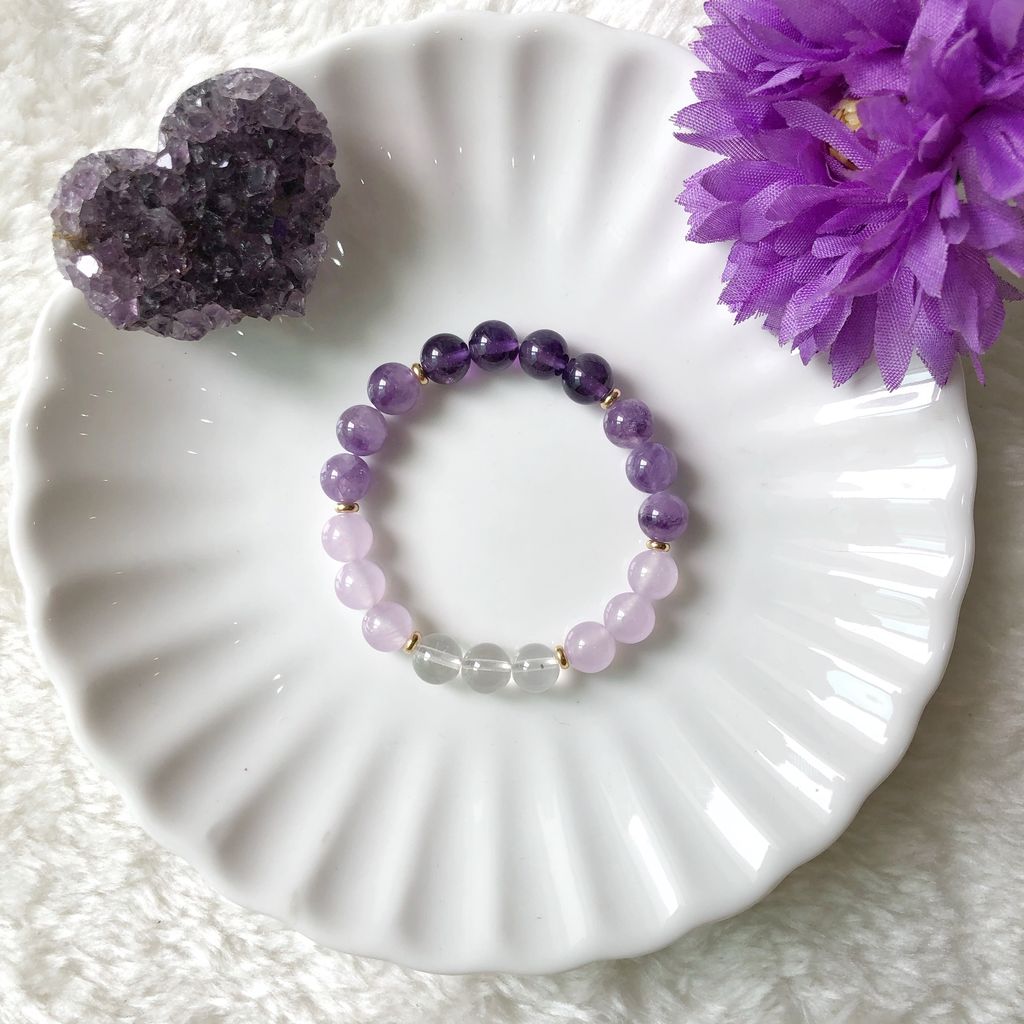 L489 : Amethyst, Lavender Amethyst, Lavender Jade & Milky Quartz
Amethyst is a powerful and protective stone. It guards against psychic attack, transmuting the energy into love and protecting the wearer from all types of harm, including geopathic or electromagnetic stress and ill wishes from others. Amethyst is a natural tranquiliser, it relieves stress and strain, soothes irritability, balances mood swings, dispels anger, rage, fear and anxiety. Alleviates sadness and grief, and dissolves negativity. Amethyst activates spiritual awareness, opens intuition and enhances psychic abilities. It has strong healing and cleansing powers. Amethyst encourages sobriety, having a sobering effect on overindulgence of alcohol, drugs or other addictions. It calms and stimulates the mind, helping you become more focused, enhancing memory and improving motivation. Amethyst assists in remembering and understanding dreams. It relieves insomnia. Encourages selflessness and spiritual wisdom.
Lavender Amethyst promotes peace, eases stress, heightens awareness, and relieves physical and emotional pain. It inspires wisdom through dreams and intuition, and instills a sense of luxury from self knowledge and spiritual insight.
The lavender jade has a calm kind of energy, which may heal, soothe, and balance. It'll also provide inner peace, as well as harmony in the heart and in a relationship. This stone will help you in getting in touch with one's emotions
Milky Quartz has the same benefits of Clear Quartz. It aids concentration, helps with memory recall, enhances communication, accelerates healing, and stimulates the mind. This gemstone harmonizes your Chakras and brings balance to your physical, spiritual, and emotional well-being.
* Earrings are made using s925 silver/ 24k gold plated or stainless steel finishing, hence it is suitable for sensitive ears as it's nickel free.
* Please note: Each pieces of crystal may vary slightly in size, appearance, grain & colour as our crystals are natural element & hand crafted.
Customer comments
| Author/Date | Rating | Comment |
| --- | --- | --- |