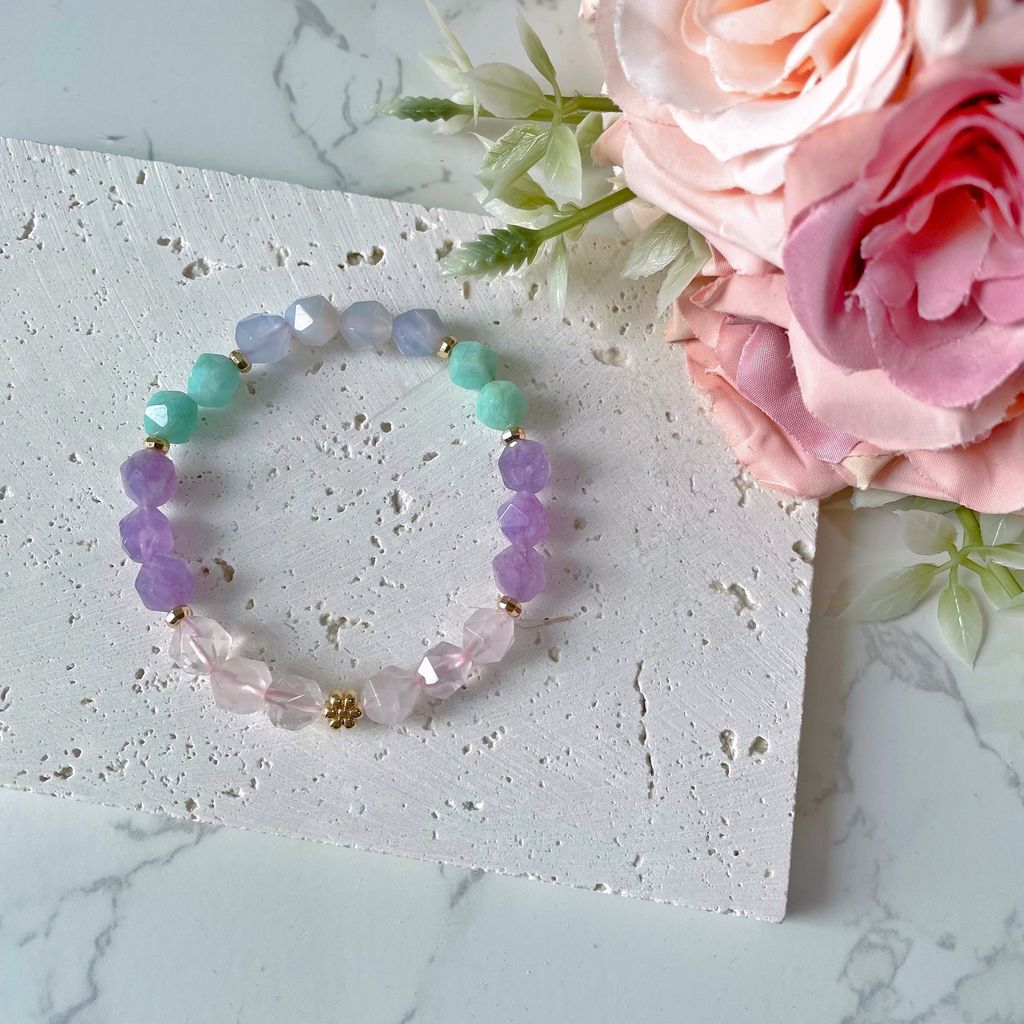 L983 Rose Quartz, Lavender Amethyst, Amazonite, Chalcedony (8mm faceted)
Rose quartz is known as the crystal of unconditional love. It's said to boost feelings of self-love and foster loving relationships with others. Smoky quartz is considered a grounding stone and may help you feel rooted to planet earth. It's believed to be mood lifting and is used for protection
Lavender Amethyst promotes peace, eases stress, heightens awareness, and relieves physical and emotional pain. It inspires wisdom through dreams and intuition, and instills a sense of luxury from self knowledge and spiritual insight.
Amazonite is a soothing stone. It calms the brain and nervous system and aids in maintaining optimum health. Balances the masculine and feminine energies. Amazonite helps you to see both sides of a problem or different points of view. It soothes emotional trauma, alleviating worry and fear. Dispels negative energy, aggravation and blockages within the nervous system. Amazonite assists in manifesting universal love. It protects against electromagnetic pollution and absorbs microwaves.
Chalcedony is a powerful healing stone that can treat skin infections and effectively absorb and dissolve negative vibrations. Being a powerful healer, it can reduce the effects of dementia and even senility. It will bring your heart and mind into balance and help to harmonize both with the physical body.
* Earrings are made using s925 silver/ 24k gold plated or stainless steel finishing, hence it is suitable for sensitive ears as it's nickel free.
* Please note: Each pieces of crystal may vary slightly in size, appearance, grain & colour as our crystals are natural element & hand crafted.
Customer comments
| Author/Date | Rating | Comment |
| --- | --- | --- |